Why Artis Handcrafted?
At Artis Handcrafted, we hand-pour soy wax into candles made to envelope your home in luxurious aromas. Our soy blend candles contains a minuscule amount of paraffin wax used for smooth tops before and after candle burn as well as longer burning time. We only use natural cotton wicks and all candles are made in a smoke-free and pet-free environment. We have a variety of fragrances for your candle needs, whether you are looking for classic, traditional, or seasonal scents. Let our long lasting scents help make your house smell like a home.
WELCOME TO SPRING
Spring is here and we are excited to share our spring collection. We are bringing back some spring classics as well as some new spring fragrances that we are sure you will love. There's nothing quite like that nice spring weather with the amazing and sensational aromas that will create positive vibes in your home!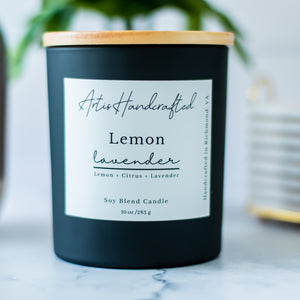 13.5 oz Glass jars
Experience our 13.5 oz soy blend candles which are in a matte black vessel in which you able to see the flame through the glass and being paired with the wood grain lids, it will give a very nice and upscale look to your home or office along with the wonderful aroma these candles will produce.
Shop Now